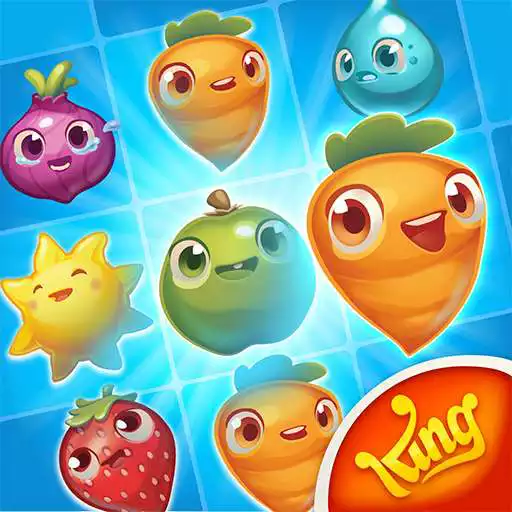 Farm Heroes Saga
The official app &amp game
Distributed by UptoPlay
SCREENSHOTS
DESCRIPTION
Use UptoPlay to play online the game Farm Heroes Saga.
Farm Heroes Saga, from the makers of Candy Crush Soda Saga & Bubble Witch 3 Saga!

Rancid the Racoon is trying to spoil the precious Farm Lands, stealing as many Cropsies as he can along the way. Join forces with the Farm Heroes and help collect the Cropsies to save the day! Play through hundreds of levels solving puzzles by switching, matching and collecting Cropsies across the farm!

Match 3 or more Cropsies to collect them, plan your moves for bigger and better matches to reach that all important high score! Explore farmtastic adventures across a variety of game modes and puzzles including Rancid boss battles!

Farm Heroes Saga has a wealth of boosters and power ups to help you out along the way! Make the most of Hero Mode when you have moves to spare, Hero Mode lets you earn extra points which makes those big matches even more worthwhile!

Take on this fantastic Saga alone or play with friends to see who can get the highest score and compete to become number 1!

Farm Heroes Saga is completely free to play but some optional in-game items will require payment.

By downloading this game you are agreeing to our terms of service; http://about.king.com/consumer-terms/terms

Farm Heroes Saga features:
Collect all kinds of Cropsies to win the level before you run out of moves
Relaxing match 3 gameplay
Hero Mode: Earn extra points when you have moves to spare!
Play levels and win magic beans to help you activate Farm Club
Reach for the stars in the Tractor Dash, challenge friends to collect stars for rewards
Rechargeable boosters, special power ups and Farm Club animals to help you win those challenging levels
Easy to play but challenging to master
Acres of luscious levels and puzzles to complete - more added every 2 weeks!
Leaderboards to watch your friends and competitors!
Easily sync the game between devices and unlock full game features when connected to the internet

Visit https://care.king.com/ or contact us in game by going to Settings > Customer Care if you need help!

Follow us to get news and updates:
facebook.com/FarmHeroes
Twitter @FarmHeroesSaga
youtube.com/user/FarmHeroesOfficial
farmheroessaga.com

Start matching and collecting Cropsies today! But most importantly have fun playing Farm Heroes Saga!
Enjoy with UptoPlay the online game Farm Heroes Saga.
ADDITIONAL INFORMATION
Developer: King
Genre: Casual
App version: 5.76.1
App size: 76M
Recent changes: Hey farmers!

We have made some Croptastic improvements to Farm Heroes that will make your gaming experience even better! Cool, right?

Remember to update to the latest version and get playing!
Comments:
`My 6 year old grandson loves this game. My complaint is how expensive the additional costs are and sometimes you actually completed the level but the game doesn't acknowledge it. Update: grandson is now 7 and is no longer interested in playing. Since it's on my phone I play when I'm at loose ends, at DR office or waiting on food. He was correct when telling me that the game will cheat you when playing with purchased items. It usually "crashes" once you have purchased the additional items.`,
I stopped playing for a while because the levels were starting to not LET ME advance or get past them. NOW that I have started to play again, it's a little bit easier and I am able to pass the levels and collect my booster's. I don't know FOR how long because I'm using BONNIE'S BUSTER'S. Also got a message that I have 50 GOLD BARS, WAITING FOR ME TO COLLECT, I HAVE NOT SEEN OR GOTTEN ANY, WHAT'S UP WITH THAT?just a little bit easier and I'm loosing interest in the game.
Choice of ads or not, a good thing. Many opportinities to win that level. I Like game except game keeps being stuck on 1st day gifts.. It would be good if they hurry pit me on 7th day gift, seeing I PLAY EVERYDAY, everyday should be the 7th day reward. where do i use these rewards at? The hammers for instance that i win. I should be overstalked but where are they? You all have so many underhanded tricks. I really like the NONE OF YOU. you're very dishonest and deceiving. A bunch of liars.
I love this ..it's very challenging..being playing for years...Love it ..thanks team king..Really nice graphics..level or hard but I have enough beans lol love it..help my nerves I would love to be able to win gold bars....I never run into ads......level are challenging. Need lots of beans and help........ I don't like the copies, they opens close up and opens again ,.the higher levels and some really hard to beat , spend and buy I probably retire
Yes, this game cheats! While it's fun, free with no ads, it's frustrating watching items fall in front of what should be falling or matches not counted. I'm sure no one will read this but, oh well. Time suckers need to be better in order for them to take up precious time."
Page navigation: