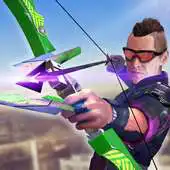 Elite Archer
The official app &amp game
Distributed by UptoPlay
SCREENSHOTS
DESCRIPTION
Play this online game named Elite Archer.
Lifelike archery movement!
Each shooting is an accurate calculation of strength & wind speed.
Hitting the golden ring is the ultimate goal.
Keep training and try your best to become the world archery champion!
Game features:
☆ 600 levels of single-player training levels in game! Absolutely satisfy your archery desire! More limited time game modes (multiple targets waiting for you to aim) and offline play mode! Just compare archery techniques together with friends!
☆ Rich in-game props, high-grade bows, high-grade arrows, high-grade gloves and various anti-windage props. The attributes of arrows and bows(strength, speed, wind resistance) are also different. The use of wind removal props can remove the influence of wind. Use the zoom out item to zoom in on a target and help you get better scores!
☆ Impressive gameplay and realistic sound, allowing the player to experience an excellent archery effect!
Suitable for players of all ages
No Wi-Fi? No problem!
Updates:
Elite Archer from UptoPlay.net
Page navigation: