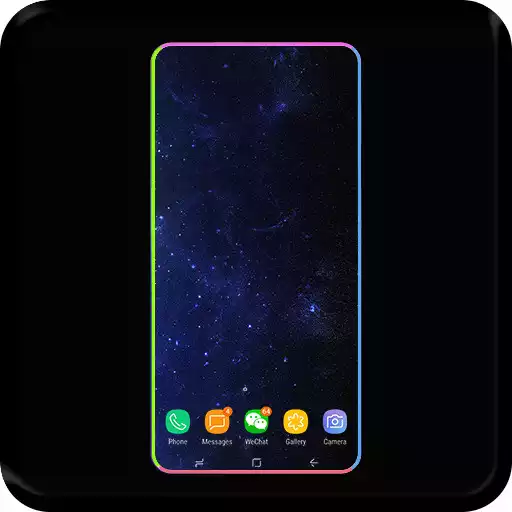 Edge Lighting: Live Wallpaper
The official app &amp game
Distributed by UptoPlay
SCREENSHOTS
DESCRIPTION
Use UptoPlay to play online the game Edge Lighting: Live Wallpaper.
Download Magical Edge Lighting live wallpaper with colorful border color live wallpapers Always on Edge and customize your mobile screen led light. This edge lighting led lights with rounded corners and live walpapers is full of colors and battery animation are aslo added in this Magical Edge Lighting Borderlight.
Edge Lighting Borderlight & Magical Edge Lighting - LED Notification Light
Welcome back to the Edge Lighting led light and add Magical Edge Lighting, Border Colors & live wallpaper on your screen light and home screen. Customize EDGE lighting colors, led lights live wallpaper, screen light border light, and display light as you want to change the color of borderlight wallpaper. Edge Lighting Borderlight allows you to customize the led light, with multiple Colorful Round EDGE Lighting Borderlight. Best Led edge lights colors live wallpaper app for all Android users. Edge Lighting Borderlight will bring you the amazing experience of edge lighting wallpaper. LED notification rounded corner light is a customized system lighting feature for users and mobile screen light for decorating rounded corner edge lighting colors. Edge Lighting Borderlight, Wallpaper Live, and LED notification rounded corner light make a more customized to manual adjustment of borders lights screen Infinity U, Infinity V, Infinity O, Display Notch, New Infinity, etc. In the Notification screen light application, you can enable edge light colors. Glow your screen edges Always on edge & lighting LED with amazing borders light wallpaper AOE with lighting appearance of different patterns like stars, moon, heart, emoji, fruit, clouds, etc.
Edge Lighting Borderlight - Magical Edge Lighting & Border Colors
Best Colorful Rounded Corner of Edge app, always on display AOE rounded corner Edge colors effects designed for decoration to attract others through this Colorful edges animation & battery saver feature. Best battery saver and borderlight app. Notification screen light borderlight wallpaper is a great application. In this LED notification light Rounded corner color galaxy gradients are added with special edge lighting effects always on edge AOE.
Edge Lighting Borderlight - Battery Saver 2022 - edge borders live wallpaper available for all mobile phones
How to use Edge Lighting - LED Notification Light live wallpaper for lock screen led lighting rounded Corner?
Open Borders light wallpapers & customize Magical Border lighting and beautiful curved rounded corners light. When colorful led lights - LED Notification Light opens then on the main Edge screen light you will see options for enabling the edge lighting borderlight live Wallpaper. Enable led color lights effects and Magical Edge Lightening on your screen and enjoy lighting edge notification color with live wallpaper.

Devices for Edgelighting app & LED Notification Light
. EDGE Lighting screen support all types of mobile screens like Samsung Galaxy all models Nokia, Oppo, Vivo Realme, etc.

EDGE Lighting Colors & Led lights Features
. Customize edge lights, borders lights & edgs lighting colors
. Set the colors of the EDGE Lighting screen and Notification screen light as you want
. Change border light animation speed top, bottom, and width
. Adjust the border light, screen top, and bottom borderlight as you want according to your device notch
. Choose Magical edge screen lighting, Edge border type, 30 plus types of Edge lighting borders are available
. Adjust HD live wallpaper inside the RGB light screen
. Adjust your picture as Edge Light live Wallpaper Always on display AOE between the colorful RGB light screen display light

Use this Always on display (AOE) app and enjoy the Led edge Notification - Rounded Corner Colorful edges Lighting Notification feature for all android users.
Rate led edge lighting rounded wallpaper and share it with friends.
One of the best LED Notification Light Border Colors - edge screen light app
Enjoy with UptoPlay the online game Edge Lighting: Live Wallpaper.
ADDITIONAL INFORMATION
Developer: ART DEVELOPER
Page navigation: