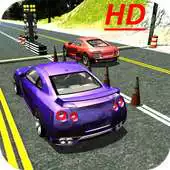 Drag Racing 2
The official app &amp game
Distributed by UptoPlay
SCREENSHOTS
DESCRIPTION
Play this online game named Drag Racing 2.
Drag Racing game with real car physics.
*MultiPlayer drag racing modes
*50 different cars
*All cars have interior and dashboards
*Drag Racing with Auto and Manual Gearbox car
*Tuning Cars
*Suspension Settings
*Exterior tuning
*Free Drive!
*Manual and Auto gearbox
*Traffic cars
*Big environment
*Real Drag Racing tree
*Traffic Drag racing mode
*Friend list
*Online Chat
Drag Racing ranges: 500m, 1km, 2km.
Updates:
1.3.9
*Minor update
1.3.8
* New Race Mode!
*New Wheels
*Some new Tuning features
1.3.7
*New Cars Added
1.3.6
*Friend list added
1.3.5
*+1 Garage space
1.3.4
*Some interior of car can be downloaded
*New Setting Options
1.3.3
*Fixed car color bug (thanks to "Colby Christensen")
1.3.2
*Added in app purchase
*Changable COG
*Auto Shifting gearbox
*Arrows to steering
1.3.0
*Added map
*Added new cars
*Added new wheels


Drag Racing 2 from UptoPlay.net
Page navigation: