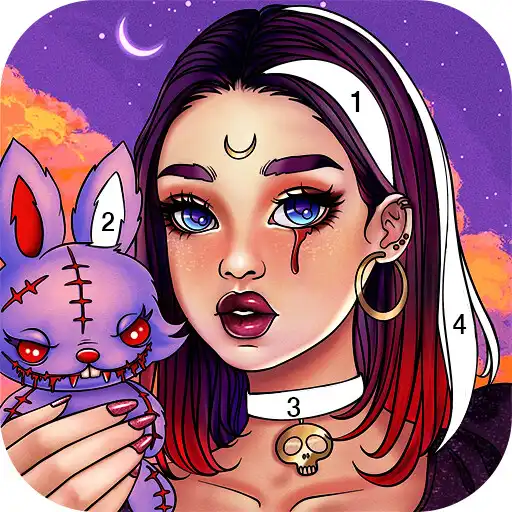 Dark, Horror Color by Number
The official app &amp game
Distributed by UptoPlay
SCREENSHOTS
DESCRIPTION
Use UptoPlay to play online the game Dark, Horror Color by Number.
Horror&Dark Color, Color by Number is a horror-themed coloring book for players of all ages. Paint by number to create your dark, devil, demon coloring book.

This coloring games contains many paintings of horror, dark, demon, devil nightmare themes.

Not only that, Horror Color, Color by Number contains all the dark, devil elements you can think of.

Special Category

Devil
Nightmare
Vampire
Goth
Demon
Skeletons
Horror dolls
Hell
Darkness
Zombies
Halloween theme
Dracula
Horror scenes
Killer
Mummy
Clown
Ghost
...............

Featured Content
Vampire story series pictures
Mysterious horror pictures

You're sure to find a picture you like! Join now!

Horror Color, Color by Number is a real horror-themed coloring book where you can easily click on the blank areas to color your favorite pictures. Whether you're on the go, left alone at home, or just relaxing during your downtime, this horror coloring app is sure to be the one to keep you comfortable!

Horror Color, Color by Number is updated daily with horror pictures and a variety of free pictures for you to paint. The exquisite horror pictures are specially created by our talented illustrators, and each one offers you a wonderful coloring game experience!

In Horror Color, Color by Number, you can unleash your artistic talent as much as you want. Enjoy countless horror-themed colorful pictures at any time and create your coloring artwork anywhere you want. Open the coloring game and you will be transported into a wonderfully scary coloring world, plunge into Dracula, zombies, darkness, killers, and mummies inspired by coloring.
Sounds good? Download our game now and experience it!

How to play? It's so easy in Horror Color, Color by Number. In our app, each picture has light gray lines to indicate the area to paint, and each area has a number and corresponding digital paint to use. You can paint by number with just one hand, easily and quickly enter the world of horror coloring games, relax and have fun with coloring!

Check out our exclusive features.
-Start the coloring game anytime, anywhere - no pencil or paper is needed
-Easily complete your extraordinary masterpiece in the coloring game
-New drawings are updated daily, and unique pictures made by illustrators
-A rich and interesting theme, say goodbye to boredom
-Share your work with friends on social networks
-Unique killer clowns, Dracula, killer claws, zombies, and mummies

This app is for you if you like watching horror movies or like clowns, demons, goths, and zombies. Choose your favorite images and color each horror picture with color. When you're done with these scary coloring pages, you can let your mind relax and live more comfortably!

Coloring makes your life more exciting and gives you unexpected inspiration!
Don't hesitate, we are waiting for you, join us now!
Enjoy with UptoPlay the online game Dark, Horror Color by Number.
ADDITIONAL INFORMATION
Developer: Fancy Games Studio
Recent changes: Improve the coloring experience!
Page navigation: