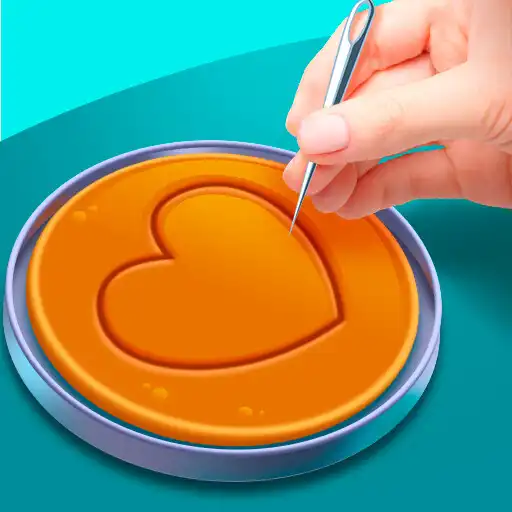 Dalgona Candy Honeycomb Cookie
The official app &amp game
Distributed by UptoPlay
SCREENSHOTS
DESCRIPTION
Use UptoPlay to play online the game Dalgona Candy Honeycomb Cookie.
Welcome to Dalgona Candy Honeycomb Cookie Game. This is a game about the different shapes in dalgona sweets and honeycomb cookies. Dalgona andy challenge is a sweet game about cookie candy! Cut the shapes out of the candy and have fun. It is not an easy candy challenge. You need to be careful to keep the cookies in shape cookies.
The idea of the candy challenge game is simple - cookie carver! But is it just a cookie carver? Dalgona Candy Honeycomb Cookie Game is a new popular game where leave the shape in the middle of dalgona candy cookies.
You have many levels in the cookie game where you can cut out different shapes of dalgona candy - hearts, flowers, animals and different images. These are not just sweet games. This is a real candy challenge!

Features of Dalgona Candy Honeycomb Cookie Game:
- This sweet game is about dalgon candies and different types of cookies.
- Candy challenge - carefully cut out the center cookies.
- Classic dalgona, American cookies and other types of sweets.
- Lots of cookie carver tools.

Cut honeycomb from dalgona candies is a soothing 3D game. Take part in this candy challenge and cut all the shapes from dalgona. Dalgona Candy Honeycomb Cookie Game to everyone who loves sweet games, cookie games and 3D games with candy challenge. Carve out different shapes from the honeycomb cookie and enjoy the result. Dalgona candy honeycomb is a new favorite sweet with hearts, flowers and other shapes in the cookies game. Enjoy the process of playing with dalgona, candies and cookies. We are waiting for you in the Dalgona Candy Honeycomb Cookie Game.
Enjoy with UptoPlay the online game Dalgona Candy Honeycomb Cookie.
ADDITIONAL INFORMATION
Developer: LIVDG LIMITED
Recent changes: - New dalgons. Chocolate, coconut, mint and others.
- New section in the shop.
- Rewards for completing levels.
- Level skipping system.
- Bonus mini-game.
- Optimization and bug fixes.
Page navigation: