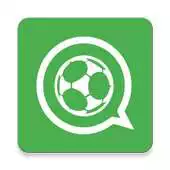 CrowdScores
The official app &amp game
Distributed by UptoPlay
SCREENSHOTS
DESCRIPTION
Play this online game named CrowdScores.
CrowdScores brings you the fastest live soccer scores from leagues, competitions and games around the World as well as fixtures, results, league tables, lineups and video highlights. Turn on push notifications to receive goal updates straight to your device as soon as they happen!
We feature more than 350 soccer competitions from 117 different countries and cover around 1500 matches on an average week. CrowdScores is the place to be for amateur soccer; whether it be non league football or 5 a side leagues, with organisations such as Goals. It is the perfect platform to check up on results from your own teams, to the professional leagues.
What makes our live soccer scores platform different from others is that users can contribute and share data within CrowdScores. This enables us to get quick updates straight to your device whilst offering a level of depth not available on other apps.
Features
• Livescore - Get live soccerl scores from all major leagues and competitions including Premier League, MLS, La Liga and Bundesliga
• NO ADVERTS - There are no ads whatsoever on CrowdScores
• Push notifications - Instant goal, card, substitution and kick off notifications straight to your device
• Fast - We are typically up to 10 seconds quicker for goal notifications than our competitors
• Video Highlights - Watch highlights from La Liga, MLS, Ligue 1, Serie A and more straight from the app
• Lineups - Get team lineups as soon as they are announced
• Results - Find out match results from around the World
• Fixtures - Know exactly when your team is playing
• Calendar - Scroll back through historical football data and see previous results, goals and stats
• League Tables - Live updating league tables
• Comments - Match chat and discussion with fellow fans
• Cards and Substitutions - Yellow cards, red cards and substitutions from all the biggest leagues
• Share match events - Help CrowdScores improve by contributing match events and opinion
We are CrowdScores. Though sometimes we might be referred to as Crowd Scores, CrowdScore or Crowd Score.
Downloaded by more than 5 million soccer fans worldwide.
Contact us:
• Website - www.crowdscores.com
• Twitter - @CrowdScores
• Facebook - fb.com/CrowdScores
• Instagram - instagram.com/CrowdScores1
• Google+ - google.com/+CrowdscoresFootball
• Email -
[email protected]
Updates:
> Squads - View all of a team's players from the squad tab
> Contributions - New buttons and improvements
> Moderators - To help improve the community
Are you enjoying CrowdScores? If so, please give us a rating on Google Play.
Become a part of our community by going to community.crowdscores.com or follow us on Twitter @CrowdScores
CrowdScores from UptoPlay.net
Page navigation: