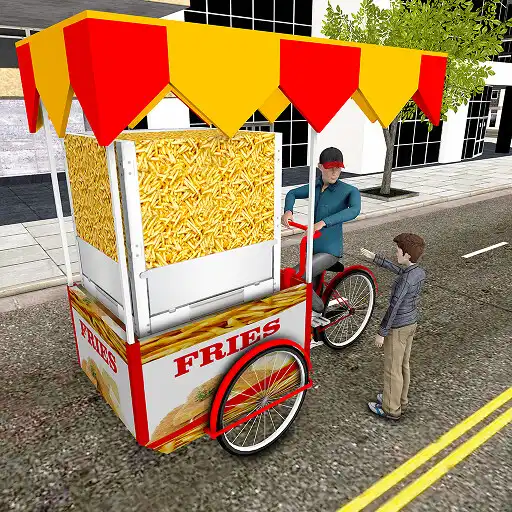 Crispy Fries Hawkers Cycle
The official app &amp game
Distributed by UptoPlay
SCREENSHOTS
DESCRIPTION
Use UptoPlay to play online the game Crispy Fries Hawkers Cycle.
Give a boost to your charm in the fries hawker cycle: city food delivery games with endless street food city riding fun. Start your street chef food truck games & extreme fast food cooking madness adventure in the food delivery boy games, use various ingredients to cook crispy potato fries with amazing toppings to serve tasty fries across the city & make your customers happy and satisfied. You can cook food for multiple customers at same time in street food truck kitchen games to improve your cooking & time management skills in this 3d simulator. Fulfill your dreams to own a fries hawker cycle in the street food delivery world! By providing delicious & tasty cuisine, please customers and make foodie paradise in this crispy fries hawker delivery 3d game.

Give a tasty treat to people and sell crispy fries by your fries hawkers cycle around the whole city and more. Get a chance to drive a fries hawker cart or crispy fries cycle in big cities streets in a street food delivery boy fun simulator game. Ride a 3-wheel bicycle delivering street food door to door. Become the extreme kitchen food chef by travelling across the city to serve yummy street food in this fast food delivery 3d games. Add a variety of toppings to become street food delivery & food truck driving tycoon in 3d game adventure!

Step into the virtual life of a street hawker to distribute yummiest crispy fries packs. Deliver fried street food from your crispy potato chips maker kitchen to across the whole city and make your customers happy! Drive fries hawker cycle & sale crispy potato fries like amusement park and high school parking area. Drive with crispy fries hawkers cycle: street food delivery in the city traffic. Give a yummy treat to youngsters and families across the mega city in this amazing 3-Wheeler riding simulator game.

Don't keep the customer waiting to paddle fast to play the new free fries hawker cycle food delivery game. Ride a 3 wheeler fries hawker and sell tasty and yummiest street food in this amazing city delivery games. Ride the fries tricycle around to find the customers to accomplish your city delivery missions. Dare to ride against traffic with challenging delivery bicycle simulator missions on fries hawker bicycle game as a delivery pizza boy 3d games.

Run into this crazy city, become the awesome crispy fries delivery man and sell as much street crispy potato food as possible until it starts to melt away. Rush to the fries cart and get your dose of street food refilled. Keep selling more tasty crispy potato fries and prove yourself to be the best fries hawker delivery boy in this city 3d game. Being a city food delivery cart man is a tough job and you often come across choosy customers. Tackle them and earn some extra bonus points.

Accident or fries hawker crashes will be caused level failed, so do not collide with other vehicles on city highway in fries street food delivery game. Dont let the city people much wait go fast and get some tip from customer. High speed, race your fries hawker bicycle vehicle in this crispy fries city delivery! Potato sticks city delivery games have never been this adrenaline filled. Get ready to be the most amazing delivery boy around the city to deliver crispy potato fries by your own fries hawker.
Enjoy with UptoPlay the online game Crispy Fries Hawkers Cycle.
ADDITIONAL INFORMATION
Developer: Cover Shoot Studio
Page navigation: