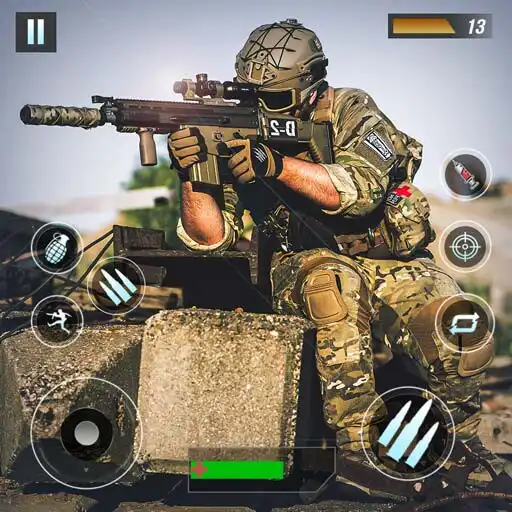 Cover Action Fps Battle Games
The official app &amp game
Distributed by UptoPlay
SCREENSHOTS
DESCRIPTION
Use UptoPlay to play online the game Cover Action Fps Battle Games.
Introducing Cover Action Strike: the ultimate fps battle game offline of 2023! Get ready for a critical action-packed adventure where you'll have to show off your sniper shooting skills and battle your way through challenging battlegrounds.

In this FPS battle survival game, you play as a commando on a mission with a group of fellow soldiers. Your objective is to eliminate all enemies and complete the mission successfully in this Cover Strike offline game. With the intense and realistic graphics of this fps shooting game, you'll feel like you're right in the action!

One of the most exciting features of Cover Strike is the Cover Fire mechanic, which allows you to take cover behind obstacles and shoot from a safe distance. This feature adds a new level of strategy to the game, as you must plan your moves carefully to avoid being spotted by the enemy.


If you're a fan of FPS shooting games, then Cover Action FPS Battle Games is a must-play title. With its engaging gameplay, stunning graphics, and diverse range of battlegrounds and battle games, this game is sure to provide hours of thrilling entertainment. Whether you're playing offline or online, alone or with friends, the game's cover fire, sniper strike, and critical action gameplay will keep you coming back for more.

But if you're looking for a FPS battleground survival game that you can play with friends, the Fps Fire Battleground Survival 2023 game in group mode has got you covered. Gather your friends and work together to complete challenging missions and take down enemies in this exciting fps commando game.

With Modes like Cover Fire, Cover Strike, and the Cover Fire game 2, these Modes are designed to provide players with an immersive shooting experience that is both challenging and rewarding.

Whether you prefer offline shooting games 3D or FPS battle games that pit you against other players from around the world, there are plenty of options available to suit your preferences.

For sniper shooting games Lovers, the sniper strike and sniper shooter modes will definitely be your favorite. In these modes, you'll have to rely on your precision and accuracy to take down enemies from a distance. You'll need to use cover fire to stay safe and avoid getting hit, while also taking out your targets.

And if you're a fan of survival games, then the fps fire battleground survival and fps battleground survival modes will put your skills to the test. You'll need to stay alive as long as possible in a hostile environment, using your weapons and tactics to fend off enemies and stay alive.

From the explosive FPS battle shooting gun games to the tactical FPS shooting games that require careful planning and precision, there is something for everyone in the world of cover action FPS battle games.

One of the most exciting aspects of these battle game offline is the sheer variety of battlegrounds that you can explore. From desolate wastelands to bustling cities, each map presents a unique set of challenges and opportunities.


The game features a wide range of weapons to choose from, including sniper rifles, assault rifles, and pistols, each with their own unique characteristics. You can customize your weapons to suit your playing style and maximize your chances of survival on the battlefield.

The Fps Shooter game has multiple levels and each level has its own unique challenges, so you'll never get bored. In each level, you'll face different enemies and obstacles, making each experience different from the last. Some levels require you to be stealthy and strategic, while others require you to be quick and decisive.


So, what are you waiting for? Download Cover Strike now and get ready for an epic battle game experience! With its intense gameplay, realistic graphics, and offline capabilities, this game is sure to keep you entertained for hours on end. And the best part? It's completely free!
Enjoy with UptoPlay the online game Cover Action Fps Battle Games.
ADDITIONAL INFORMATION
Developer: Artime Game Studio
Recent changes: Are you looking for an action-packed shooting game that will test your skills and keep you on the edge of your seat? Look no further than the exciting world of Cover Action FPS battle games. An Action Packed FPS Shooter is here.
Which has Different Modes.

- Campaign Mode
- Cover Mode
- Multiplayer Mode
- Sniper Mode
Page navigation: