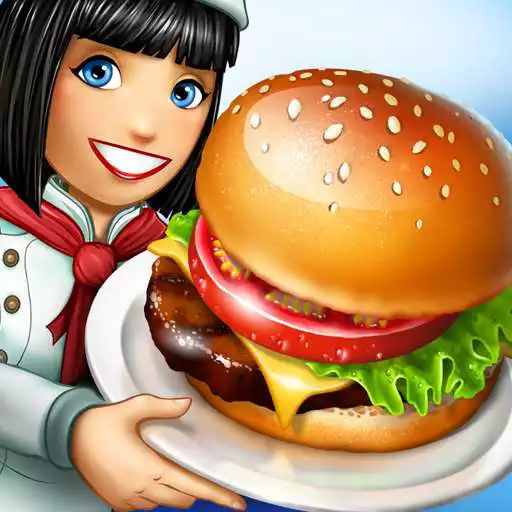 Cooking Fever: Restaurant Game
The official app &amp game
Distributed by UptoPlay
SCREENSHOTS
DESCRIPTION
Use UptoPlay to play online the game Cooking Fever: Restaurant Game.
Cook delicious meals and desserts in your very own restaurant and discover different cuisines from all over the world in this addictive time-management game!

With a wide choice of unique locations and restaurants, from sweet desserts to mouth-watering burgers , from Chinese to Indian cuisines , you will practice your cooking skills in a variety of different kitchens and learn unique food preparation techniques from all over the world!

Unlock hundreds of delicious recipes to prepare and serve in your very own restaurant. Try out all the possible kitchen appliances, from coffee machines and rice cookers to pizza ovens and popcorn makers.

Decorate your restaurants to attract more clients. Serve your own freebies, such as cookies or cupcakes , to make your customers experience more personal and memorable just like in real life! Upgrade your kitchen and produce an even greater variety of dishes!

Oh, and did we say that this game is as addictive and as engrossing as fever? Have fun cooking and dont forget to share your delicious meals with your friends on Facebook!

Exciting features include:
Thousands of delicious dishes from countries all over the world!
Huge choice of world-famous cuisines!
Over 1000 levels to complete!
Hundreds and hundreds of upgrades for your kitchen appliances and interior!
Tournaments & Challenges to participate in and win!

Follow us to get the latest news and participate in giveaways!
On Facebook!
https://www.facebook.com/CookingFeverGame
On Twitter!
https://twitter.com/cookingfever
On Instagram!
https://www.instagram.com/cookingfevergame/
On YouTube!
https://www.youtube.com/c/CookingFeverGame

Got some trouble with the game, questions or ideas?
Contact us here!
https://www.nordcurrent.com/support/?gameid=1
Privacy / Terms & Conditions
https://www.nordcurrent.com/privacy/

IMPORTANT NOTE:
Cooking Fever requires access to the internet in order to play. The game uses a small amount of data for features like our daily rewards, restoring lost game progress, tournaments, challenges, and other gameplay improvements.
Enjoy with UptoPlay the online game Cooking Fever: Restaurant Game.
ADDITIONAL INFORMATION
Developer: Nordcurrent Games
Recent changes: A new Korean Restaurant is ready to open its doors in Cooking Fever!
New delicious dishes to unlock: Kimchi, Bingsu, and the sweet Dalgona candy!
New challenge levels for the Flipping Pancake restaurant.
Various bug fixes and small improvements to make your gaming experience smoother.
Follow us on social media, for all the latest news, contests, and more!
Page navigation: