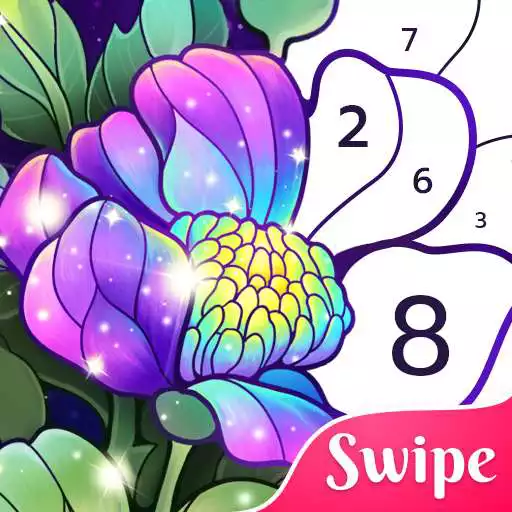 Color by Number
The official app &amp game
Distributed by UptoPlay
SCREENSHOTS
DESCRIPTION
Use UptoPlay to play online the game Color by Number - Colorswipes.
All what you love so much about color by number games, now combined in a brand new paint by number game. The main and truly unique feature of this fine art game swipes, and color by number! Coloring gamesare becoming more and more enjoyable and healthy! What and how?

The simplicity is best. Three simple steps, but such a visual feast! Choose a number, find its place on the picture, and coloring with a little easy gesture of the fingertip,swipe the screen. Did you see the clocks and the time? Happiness takes no account of time. Your pictures are going to be colored in no time. But the joy will stay in your mind as the best coloring experience's afterglow. This is a revolution in the world ofcoloring games. Just let the colors flow! Coloring games that go beyond any frames!

We also have a new feature! Props! Swipe or tapthe picture to color by number, and then, you will get a color bomb! Choose a place and drop it, sparks, fireworks, magic happens - the area where you dropped the bomb becomes colored all over!

Haven't finished your drawing? Colorswipes saved it in My Art so you just come back at any time and paint by number again.

An astonishing visual graphics will let you enjoy watching coloring playbacks. Awesome!

The coloring process became even smoother and more colorful than before! A wide range of categories in our coloring game will surely satisfy your preferences.
People - realistic, futuristic, mystic! And just awesome! Save your pictures, share as postcards(holidays), set as wallpapers!
Animals - just look how cute they are! Awww, I just love them, so will you.
Mandalas - pleasant, healthy, peaceful and relaxing! The best way to calm down, forget about any troubles and just rest!
Ornaments - decorate real-life environment with a unique design! Since all pictures are true to life, you can use them for further purposes! Become a designer!
Pattern - for those, who like abstract design, lines, shapes, words and stickers!
Flowers - ah, I wish they could smell as awesome as they look like. Your inner florist will bloom! Color and share, let your circle of friends smile every time they see your drawings!
Fantasy - a magic world! Dive into the unknown! Explore the things that don't really exist... or, maybe exist but we don't see them?
Oil painting - is my favorite! All colors look so natural, juicy, authentic. I'm sure that you will enjoy the coloring process, because you want to see more and more, with each swipe, your picture becomes more and more realistic.
Interior - thinking about your dream house but don't know how to make the dream come true? Open the app and swipe your fingertip!
Anime - for all fans and amateurs of this cute, beautiful and trendy genre! We've got tons of pictures to satisfy you with! I can't write more about them, I need to go and color! Join me!

Easy and smooth, excitement at every fingertip move! Write yourcoloring bookby playing this magnificentcoloring game!

Fall is here, winter is coming, but with Colorswipes, you will see only bright lights!
Enjoy with UptoPlay the online game Color by Number - Colorswipes.
ADDITIONAL INFORMATION
Developer: Fuero Games Sp. z o.o.
Recent changes: What's up, Colorfans!? Our updated version has been released!!
Check out these NEW features and fixes:
- Bug fixes and performance improvements.
Page navigation: