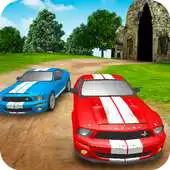 Car Racing Rally Championship
The official app &amp game
Distributed by UptoPlay
SCREENSHOTS
DESCRIPTION
Play this online game named Car Racing Rally Championship.
Car Racing Rally Championship is an extreme rally racing game.
Compete against three Car Racing drivers. Drive as fast as you can to get the first position in the race. Go through the checkpoints to check the difference time with respect to your rivals.
Get behind the wheel of legendary Car Racing rally cars. Prove yourself fast in all tracks, dare to speed in hostile conditions and terrain and to drift along the turns. Challenge the rivals to be the best driver in the world.
GAMES MODE:
- TOURNAMENT MODE: Complete the 3 circuits trying to get the best possible time. At the end of each circuit your result is shown and also your rivals result. It also will be shown the position of each one.
- FREE MODE: The objective of this game mode is to complete the circuit as a practice trying to get the best possible time.
FEATURES:
- 3 different circuits: The Valley; Castle's Route and Snowy Gully.
- Two game modes: Tournament and free mode
- 6 different types of Car Racing rally cars to unlock.
- High Quality 3D Graphics
- With exciting and astounding mustang car racing physics control.
- Very precise driving simulation.
Updates:
Car Racing Rally Championship from UptoPlay.net
Page navigation: