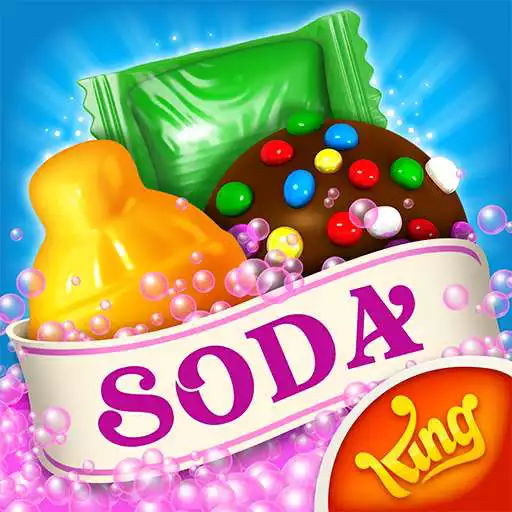 Candy Crush Soda Saga
The official app &amp game
Distributed by UptoPlay
SCREENSHOTS
DESCRIPTION
Use UptoPlay to play online the game Candy Crush Soda Saga.
Download Candy Crush Soda Saga now!

From the makers of the legendary Candy Crush Saga comes Candy Crush Soda Saga! Unique candies, more divine matching combinations and challenging game modes brimming with purple soda and fun!

This mouth-watering puzzle adventure will instantly quench your thirst for fun. Join Kimmy on her juicy journey to find Tiffi, by switching and matching your way through new dimensions of magical gameplay. Take on this Sodalicious Saga alone or play with friends to see who can get the highest score!

Monthly season updates bring unique quests and exciting gameplay for you to explore! Complete quests to progress through the Season Pass while earning rewards and boosters to help you on your Saga.

Show your competitive side in the Episode Race! Compete against other players to see who can complete levels the fastest and progress the quickest. Or work as a team in the 4 in a Row game mode where players work together for Sodalicious rewards!

Candy Crush Soda Saga Features:

*Over 6000 match 3 Sodalicious levels

*Mouth-watering graphics, with 3D characters and an ever changing environment

*Monthly Seasons all year long, filled with challenging quests and a reward-fueled Season Pass

*Game modes bubbling with fun and unique candy:

Soda Switch the bottles and match candies to release purple soda and save the Candy Bears

Frosting Match candy to smash the ice and set the Candy Bears free

Honeycomb Match candies next to honeycomb to release the trapped Candy Bears

Jam Spread the jam across the board

*Unique candies and scrumptious new matching combinations:

Match 4 candies in a square to make a Swedish Fish!

Match 7 candies for the all new Coloring Candy!

*Explore juicy worlds and levels with even more characters!

*Team up for tasty rewards in the 4 in a Row game mode

*Complete levels in the fastest time for sweet prizes in the Episode Race!

*Easy and fun to play, yet challenging to fully master

*Players that Facebook Connect will have access to leaderboards where you can challenge your friends and compare your highscores!

*Easily sync the game between devices to unlock the games full features when connected to the internet

Candy Crush Soda Saga is completely free to play, but some in-game items such as extra moves or lives will require payment.

By downloading this game you are agreeing to our terms of service; http://about.king.com/consumer-terms/terms

Do not sell my data: King shares your personal information with advertising partners to personalize ads. Learn more at https://king.com/privacyPolicy. If you wish to exercise your Do Not Sell My Data rights, you can do so by contacting us via the in game help centre or by going to https://soporto.king.com/

Facebook @CandyCrushSodaSaga

Twitter @CandyCrushSoda

Instagram @CandyCrushSaga

YouTube @CandyCrushOfficial

Last but not least, a big THANK YOU goes out to everyone who has played Candy Crush Soda Saga!
Enjoy with UptoPlay the online game Candy Crush Soda Saga.
ADDITIONAL INFORMATION
Developer: King
Genre: Casual
App version: 1.212.3
App size: Varies with device
Recent changes: Get ready for a Sodalicious update!

- Explore the world of Soda in our fizzy new episodes!
- Play stickylicious NEW LEVELS!
- Meet our sweet new characters!

Remember to play online the latest version to access the new content!
Comments:
A potentially fun matching game that got bogged down by too many features. At one point, I had a quest, a monthly challenge, a competition with other users, was collecting some sort of golden ticket, and there were some sort of bottles I was supposed to collect. That's too much stuff. I miss the days when Candy Crush was a simple and fun game, instead of this amalgam of features we are plagued with now. It still gets three stars because the normal game is still fun.
So I got this game is having issues after an update. A lot of times the ads for extra moves don't have an x to close them and when you back out of them you lose whatever extra move you were supposed to be getting. Also when I've made the bombs or the crosses or fish, they don't go where they should or they don't go off at all they just disappear. I'm getting very aggravated with this game. It used to be my downtime in the morning, but now it's just not.
Once I got up to level 294 in this game it no longer will give me my prizes. It froze up so I had to go in apps and find the game and clear the cashe and force stop the game. I restarted my phone and now I can play but it took away my rewards. And also the game shows the quest is completed and says go to rewards, but when you click on that there is nothing there. Installing!!
`Fix login issue please! Can no longer log into my account but it's only happening with his particular game. Every time I go to log in I get an error message saying "There was a connection error. Try again in a bit". I try again later, over and over again, and it never works. I update the app when an update is finally available, and it never works.`,
Getting disappointed with this game . After years of playing and at level. Really close to getting rid of this. Last update took away all my boosters and NOW it cheats BIG TIME. Things blow up that shouldn't and never where you need them. I don't mind the challenging levels that take time, but for the game to cheat me out of wins, ticks me off. We'll see what happens with this update, but this may be the end."
Page navigation: