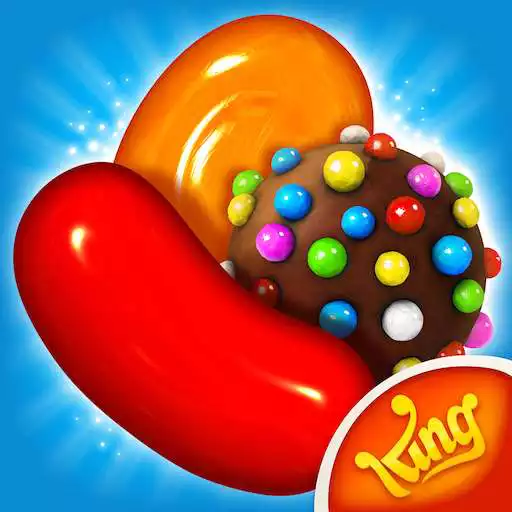 Candy Crush Saga
The official app &amp game
Distributed by UptoPlay
SCREENSHOTS
DESCRIPTION
Use UptoPlay to play online the game Candy Crush Saga.
Start playing Candy Crush Saga today a legendary puzzle game loved by millions of players around the world.

Switch and match Candies in this tasty puzzle adventure to progress to the next level for that sweet winning feeling! Solve puzzles with quick thinking and smart moves, and be rewarded with delicious rainbow-colored cascades and tasty candy combos!

Plan your moves by matching 3 or more candies in a row, using boosters wisely in order to overcome those extra sticky puzzles! Blast the chocolate and collect sweet candy across thousands of levels, guaranteed to have you craving more!

Candy Crush Saga features:

THE GAME THAT KEEPS YOU CRAVING MORE
Thousands of the best levels and puzzles in the Candy Kingdom and with more added every 2 weeks your sugar fix is never far away!

MANY WAYS TO WIN REWARDS
Check back daily and spin the Daily Booster Wheel to receive free tasty rewards, and take part in time limited challenges to earn boosters to help you level up!

VARIETY OF SUGAR-COATED CHALLENGES
Sweet ways to play: Game modes including Target Score, Clear the Jelly, Collect the Ingredients and Order Mode

Facebook @CandyCrushSaga
Twitter @CandyCrushSaga
Instagram @CandyCrushSaga
YouTube @CandyCrushOfficial

Take on this epic saga alone or play with friends to see who can get the highest score!

Easily sync the game between devices and access full game features when connected to the internet.

Candy Crush Saga is free to play but optional in-game items require payment. You can turn off the payment feature by disabling in-app purchases in your devices settings.

By downloading this game you are agreeing to our terms of service which can be found at https://king.com/termsAndConditions

Have fun playing Candy Crush Saga the sweetest match 3 puzzle game around!
If you enjoy playing Candy Crush Saga, you may also enjoy its sister puzzle games; Candy Crush Soda Saga, Candy Crush Jelly Saga and Candy Crush Friends Saga

Do not sell my data: King shares your personal information with advertising partners to personalize ads. Learn more at https://king.com/privacyPolicy. If you wish to exercise your Do Not Sell My Data rights, you can do so by contacting us via the in game help centre or by going to https://soporto.king.com/contact
Enjoy with UptoPlay the online game Candy Crush Saga.
ADDITIONAL INFORMATION
Developer: King
Genre: Casual
App version: 1.221.0.4
App size: Varies with device
Recent changes: We hope you're having fun playing Candy Crush Saga! We update the game every week so don't forget to play online the latest version to get all the sweet new features and levels!

New to the game? Don't be shy, join the fun!

Coming back after a break? About time!

Let's play!
Comments:
`It's hard to rate this as a game because it isn't designed to be one. It's not designed to be fun, it's designed to be frustrating and addictive to force you to pay as much money as possible in small amounts. I've never seen a more predatory game. Levels are designed to need boosters you pay for, after every level won or lose you are prompted to buy something. Bright colorful "last chance offer" banners cut in every few seconds. This is dirty design, steer your kids clear.`,
FUN FUN FUN, until a few times like yesterday I finished all requirements of the Gold Candy Box and after hitting the claim button I did not receive the prize this happened once before I was very disappointed. Perhaps there's something wrong with the Gold candy box. The challenges are good but more boosters are needed. The newer puzzles are cool, however I don't like the changes made to friends. I don't want to sign up to make more friends. It was nice the old way.
I used to absolutely LOVE playing this game until their last update. Now it's impossible to win a level without having to purchase some kind of boost. Almost everytime I play it now I am stuck on the same level for about 2 weeks. I don't want to keep playing the same level over and over again!!!!! FIX IT BACK THE WAY IT WAS KING!!!!! IT WAS SO MUCH BETTER!!!!
I really enjoy this game, they have recently updated some things with it. One thing that is very upsetting is the chocolates, when they randomly pop up and it says there's 5 left and the last one or 2 or however many do not pop up until you are out of moves, (Major downfall). It has been getting more frustrating with some of these levels when it doesn't give you what you need to win and you have no chance of winning unless you pay to get the bombs or whatnot, even then sometimes no win.
Like the game however the in app purchases can really get out of Control if you start buying the boosters. At the same time the game can be frustrating at times (harder levels) without the boosters, after falling into that trap once I refuse to do it again! The developers really need to lower their prices. If they did I will edit my review and give more stars! (not holding my breath)'
Page navigation: